---
~ Shocking News ~
---
(From The Weekly)
Halloween too far away for you? Do you need a healthy dose of horror right now?
Dr. Shock, of the deceased TV show X-Ray Chiller Theatre," has got your prescription: Fright Fest 2000.

The one and only Dr. Shock will host a night of comedy, music, gore, and horror at the Ohio Theatre on March 18. Highlights of the scary event include music by The LOVE Zombies and showings of three of Dr. Shock's very own short spooky films: "A Winter's Chill," "The Dweller" and "Garden Tool Murders.

Lance Smith, Dr. Shock's partner and co-founder of the Toledo-based After-Shock Productions, promises more gore and horror in the works.

"Our goal is to get Dr. Shock back on the airwaves," he said. With two more movies slated for production, possible offers from cable channels and a fright convention coming up in a few weeks, not to mention Fright Fest 2000 and next October's Shock Fest, Dr. Shock seems ready to pick up where he left off in '92, the year X Ray Chiller Theater" went off the airwaves on Channel 13.
"We see this [Fright Fest 2000] as our coming out party," said Smith. He said that Dr. Shock's still got a pulse, and that After Shock Productions will continue to do what they've been doing - making movies that utilize local talent and are faithful to the tradition of horror films.

Tickets are $6 in advance and $7 at the door. A dollar from each ticket goes to help the non-profit Ohio Theatre. For more information, contact the Ohio Theatre box office at 241-6785, Boogie Records, Star Design Costume Shop, or check ASP's web site: http://ghoulardi.tripod.com/after.html
---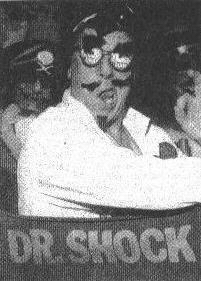 Dr. Shock returns to frighten you By Steve Howell
(From The City Paper)
You may remember coming home from a local club or social outing between the years 1989 and 1992 and turning on the television to find a late-night horror movie host on Channel 36. Dr Shock was his name, and he wore X-Ray goggles and spouted the catch phrase "go figure." He would entertain the masses with comedy skits and parodies of the films that were being broadcast.
After eight years of assuming identities as a furniture salesman, special-effects artist, and cohort of Lance Smith in Alter-Shock Productions, Shock is returning in full fashion to the Ohio Theatre on March 18. His appearance 'will be highlighted with skits and three films that he and Smith wrote, produced and directed.
"Ever since I was a little kid, I remember watching Walt Disney on Sunday and they had some little movie on about a kid who made his own Super 8 movies, and he made this Dracula movie," said Doug Agosti (aka. Doctor Shock). "I went, 'If he can do it, I can do it.'"
From that time on, Agosti has been creating films from his ideas. Smith met Agosti around 1984. They shared a knack far telling stories and developing ideas. It wasn't until 1989, however; that the two would make a demo tape based on the Dr Shock character
Shock followed the tradition of other late-night horror hosts, like Cleveland's hippy-like The Ghoul and Detroit's vampire-like Sir Graves Ghastly, Dr Shock sported eyeglasses, a goatee, a mustache, and a doctor's smock The personality was Shock's own.
Agosti and Smith shot a demo in their apartment's dining room and brought it to independent, low-power Channel 48. They figured the station might be the most accepting of a local show, but that wasn't the case. The station rejected the show, saying it contained toilet humor
Agosti's next stop was then-developing Channel 36 WUPW. Program director Denny Katell gave the show a green light for a four-week test run. The show was broadcast at noon on Saturdays; when it became apparent that there was an audience for the show; WUPW extended the run 13 weeks. Dr Shock was promptly moved to the 11:30 p.m. time slot on Fridays.
The show's popularity continued to increase, so the channel extended the show's contract to a year; which turned into a three-and-a-half-year run on Saturday nights at midnight, lasting until 1992.
At that point, the folks at WUPW decided they could make more money with infomercials than selling commercials for Dr Shock, Agosti said.
On March 18, fans will have the opportunity to see Shock again as he hosts After-Shock Productions films 'A Winter's Chill," "The Dweller;" and "The Garden 'Tool Murders." The sequence of the films builds the tension of the show, Agosti said.
"[With] 'A Winter's Chill,' you get a very cold, lonely feeling," Smith said 'The Dweller' was one of those 'don't go in the basement!' films. And, 'The Garden 'Tool Murders' - all bets are off. [For] each kill scene, I told Doug that we need to go over the top, whether we think it's sick or not."
Tickets for the event are on sale at Boogie Records, Star Design Costumes, and The Ohio Theatre.
Plans for the duo include attending the Frightvision convention in Akron on March 31 through April 2, where they hope to make connections with Universal Studios and many of the bigger national horror magazines.
For more information or to contact Dr Shock, visit his Web site at http://ghoulardi.tripod.com/after.html
---
Campy horror production due at the Ohio Theater

(From The Blade)

Doug Agosti and Lance Smith know that there is more to Toledo nightlife than hitting a neighborhood bar or going bowling.

A decade ago, at least for them and their fans, Saturday night in Toledo also meant Dr. Shock's X Ray Chiller Theater, a campy, corny, low-budget, late night horror show on WUPW-TV' Channel 36. On the program which ran from 1989 to 1992, Agosti donned a lab coat, X-Ray Spex, and a fright wig, and, as Dr. Shock, did a skit or two, then introduced that week's movie, often a real stinker. Chiller Theater only cost between $500 and $1,000 a month to produce and Channel 36 got 156 episodes out of Agosti and Smith, who helped to write, shoot, and direct the show.

Tomorrow night at the Ohio Theater; Agosti and Smith will bring Dr. Shock to the stage.

Fright Fest 2000 a screwy vaudeville/rock concert/live theater concoction featuring old Chiller skits, three cheap and fun locally produced horror flicks, and a performance by the Love Zombies, a Toledo band is "our way of letting everybody know that Dr. Shock is still out there, alive and well," Agosti says. "The whole tradition of the TV horror host has become a lost art and this is our way of keeping it going."

There will be some blood but not too much. "Nothing you'll have to go home and take a shower over," Smith said...

"The goriest it will get is [the short movie} The Garden Tool Murders," Agosti said

"One guy gets his head mowed over," he explained. "Another guy gets decapitated by a weed whacker, and a third gets his head thrust into the radiator fan of a Jeep."

Fright Fest 2000 starts at 9 p.m. tomorrow in the Ohio Theater, 3114 Lagrange St. Tickets are $6 in advance or $7 at the door Information: 241- 6785.
---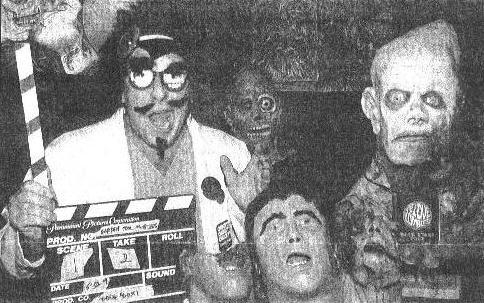 Dr. Shock to host Fright Fest 2000
By Todd Albright
(From The Herald)
If you were a late-night television viewer from 1989 to 1992, you most assuredly remember Dr. Shock and his program, X-ray Chiller Theatre on WUPN-TV 36. The program was a mix of slap-stick comedy and B-rate horror films such as "The Exorcist" and the "Chainsaw Massacre" movies. The doctor's day in the sun ended with the advent of the infamous "Infomercial' which was a high-dollar market spot for the network. Dr. Shock managed to produce 156 shows during his time with the FOX network and is now looking for a new network willing to step into the demented world of Dr. Shock's X-ray Chiller Theatre.
Dr. Shock and his partners, Lance Otto Smith and Douglas Agosti, have been keeping busy making movies through After-Shock Productions. The late night horror host has stepped behind the camera and produced three movies since his last televised appearance. "A Winter's Chill" was filmed in downtown Toledo on the coldest day in January 1992. The other two films include 'The Dweller" and "Garden Tool Murders."
These films will be showcased at the Ohio Theatre on March 18 at 8 p.m. at Fright Fest 2000, an evening of comedy, horror and live music by the undead rockers, Thc Love Zombies, and hosted by none other than Dr. Shock.
I interviewed Dr. Shock and his two associates, Smith and Agosti of After-Shock Productions, for their upcoming Fright Fest 2000.
Q: So Dr. Shock, where have you been for the last seven years?
A: The doctor is out there promoting the Fright Fest 2000 at the Ohio Theatre and letting every body know that the doctor is alive and has a pulse and is looking for a home on local TV. The doctor has also been making his own brand of horror films.
Q: Do you have plans to get back on the air?
A: The doctor has all sorts of tricks up his lab coat sleeves. I've got a pulse; I'll be back.
Q: How long has the doctor been in practice?
A: The doctor has been in practice since 1973, but professionally since 1989.
Q: Doctor Shock, where did you come from?
A: The doctor came from a different dementia...
Q: Dimension?
A: No, dementia. I'm known for moving out rather quickly from a different dementia. From the psychotic, wild and crazy, to the mainstream, to the reality. The doctor is very unpredictable and all bets are off!
Fright Fest 2000 will be a night of ghoulish fun, lots of gore, movies, music and that special brand of comedy the doctor's fans have missed in his absence. For ticket information, contact the Ohio Theatre box office at (419) 241-6785, Boogie Records or Star Design Costume Shop.
---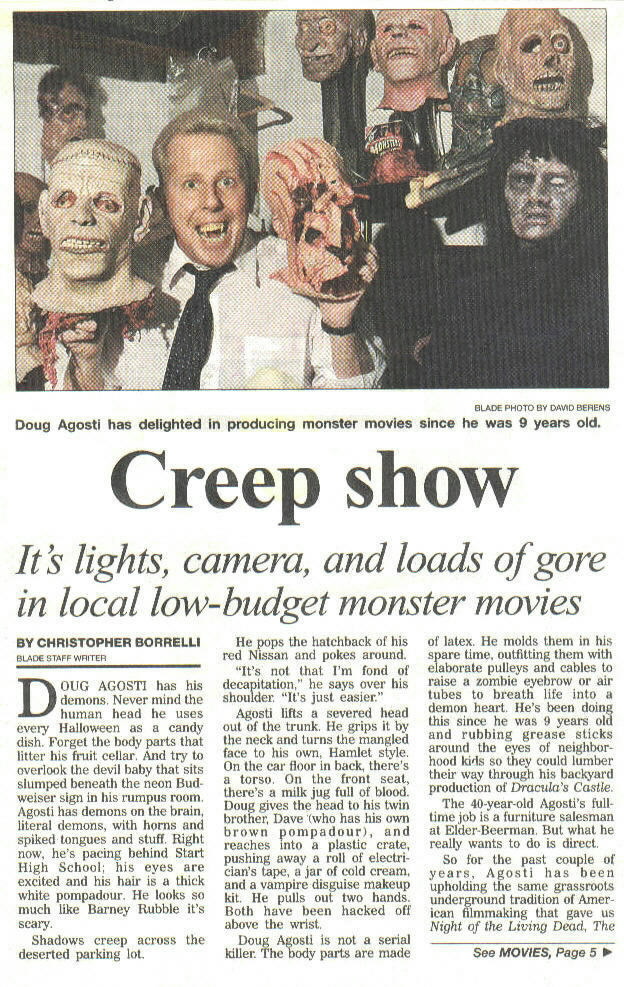 © 2001